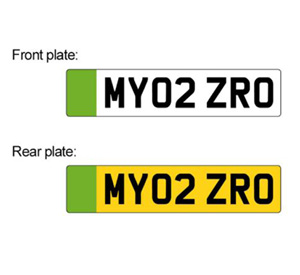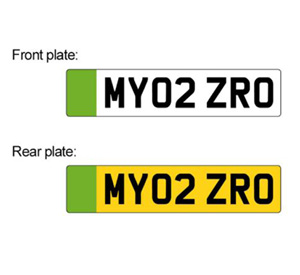 Green Number Plates for Electric Vehicles
Green number plates got the green light back in June 2020 for a zero-emission future, the government are rolling out green number plates exclusively for electric zero emission vehicles. The plans form part of the government promise to achieve net zero emissions by 2050. This is one of many initiatives including the announcement of an increase in funding to the UK charging network, specifically targeted at improving access for people without off road parking. The green number plates will do more than just signify that your vehicle is running on electric power. The government has said that cars carrying the new plate could also receive additional driving perks to incentivise the purchase of electric vehicles. These may include access to reduced or free parking and the ability to drive in priority lanes. Transport Secretary Grant Shapps commented: "The UK is in the driving seat of global efforts to tackle vehicle emissions and climate change and improve air quality, but we want to accelerate our progress. Green number plates are a really positive and exciting way to help everyone recognise the increasing number of electric vehicles on our roads. By increasing awareness of these vehicles and the benefits they bring to their drivers and our environment, we will turbo-charge the zero emission revolution" The design for the new front and rear number plates are below, the plates will be identifiable by a green flash on the left-hand side and will be available for zero emission vehicles only.
It is also hoped that this initiative may help to sway consumer behavious. The government behavioural insight team have said that helping to drivers see the amount of electric vehicles on the road may help to increase take up from drivers. Elisabeth Costa, Senior Director at the Behavioural Insights Team, said: "The number of clean vehicles on our roads is increasing but we don't notice as it's difficult to tell clean vehicles apart from more polluting ones. Green number plates make these vehicles, and our decision to drive in a more environmentally-friendly way, more visible on roads. We think making the changing social norm noticeable will help encourage more of us to swap our cars for cleaner options." If you'd like to read the Government's statement on Green Number plates click
here
, or If you'd like to learn more about electric drive,
read our interview
with our customer Mr Stroud, who was our first customer to purchase our all electric EQC purchased a limited 1886 edition EQC.
For all the latest news on the Mercedes-Benz EQ Range, sign up below