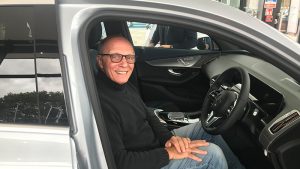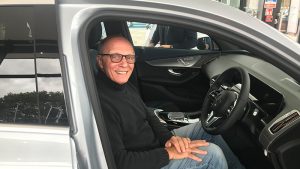 Our First EQC Handover
Friday 4
th
October was an exciting day for
Mercedes-Benz South West
as we completed our
first EQC handover
to a very excited customer. Mr Stroud purchased a limited edition 1886 EQC, one of only 100 being made for the UK market. Before we let him quietly drive away, we got the low down on why Mr Stroud chose the EQC and why he thinks now is the right time to go electric.
Tell us about your prior experience with Mercedes-Benz.
This is my 5
th
consecutive car from
Mercedes-Benz of Exeter
. They always look after me so I come back to see them and I'm never disappointed. I've had so many cars in my life and got my first Mercedes-Benz in 2012. I came here because I wanted an estate and I liked the look of the C250 AMG Sport, which was diesel at the time, and I took a test drive and I bought it. I've had German cars for the last 20 years, so this was a natural progression and, you know, once you've driven a Mercedes it's very hard to drive anything else.
Was that the particular reason that you wanted to go for a Mercedes-Benz electric car?
Well, we've actually got a Tesla at home but it's a  battery system for our solar system. So when the solar goes down in the evening when the sun goes down it's filled the battery during the day, and that powers the house in the evening, through the night until the sun comes up the next day, when solar takes over. Once we got that it made sense to go for an electric car, and it felt like the time was just about right. So, I started looking around, I looked at some of the electric focused brands and although the tech side of it is very good they've only been building cars for 15 years or so, while Mercedes have been doing it for 133 years and therein lies the big difference; they know how to build cars.
Electric Drive is in its relative infancy. How do you feel about being what we call an 'early adopter'?
I'm quite excited about it really. I'm certainly one for trying to save the planet. We're well past the half way stage and it's nice to be able to make a contribution. It's got to go this way. I know Mercedes-Benz still make lovely petrol and diesel cars but that's got to finish at some stage and I'm glad that they're spending the money on getting this right now. I saw a YouTube review, it was Rob Llewellyn from
Fully Charged
of whom I'm a great fan, and he was saying that the Mercedes-Benz EQC sips through the electric while some others really chunder through the battery, so the EQC is much more efficient. And you know, it's Mercedes. I think because we did the whole solar thing on the house this completed the trilogy. We've done the panels on the roof, the smart battery power system and now the electric car. It's a lot of money to set up but it cuts the running costs massively. We've been off grid since May, we haven't paid any electricity because we've had quite a nice summer, which means I can charge the car for next to nothing as well.
How do you intend to charge at home?
I had a
Zappi 2
installed which is a smart charger, which works in conjunction with our solar and the battery. It sees what we're using in the house and it knows when to take a charge for the car. There are 3 modes: the Eco, the Eco + and Fast. If you want to charge full time and not power anything else you can use Fast, but if you want to do it overnight you can do an Eco or Eco + and it will look at the system and see what's being used and then take as much as it needs to without making a problem for what we need for the house.
What does an average week in the life of your car look like?
We use the car quite little which is another reason we've gone down this route because we aren't doing massive journeys every day. We probably do around five or six thousand miles a year. We intend to charge overnight. I'll put it in the garage, plug it in and then stick the smart charger on and it'll decide when it will charge and when it can charge. I'll leave that going all night until next morning and then wake up with it full charged! Generally it will just be the Mrs and Me. We shop, we go to the beach and for days out to see friends so more general social and domestic uses.
You've bought the limited 1886 edition EQC. Was the fact it was limited edition important to you or did you just want one as soon as possible?
A bit of both! It wasn't the initial one I spec-ed up with JP (Sales Exec at Mercedes-Benz of Exeter). The initial was an AMG Line and then I saw this, and to be honest I preferred the front end on the AMG Line because it's a little more aggressive. But having seen the 1886, well it doesn't matter, it's just fantastic. The fact it comes with all those extras [including the Driver Assistance Package] means it's fully loaded which is a great advantage. And the other great advantage was that I could have it sooner. JP phoned me to say that the limited edition had come up so I jumped at the chance!
What are your three top reasons for going electric?
There's so many! Certainly the fact that we've gone 'eco warrior' with the house, and I like the idea that we're making the move at our time of life and changing with the rest of the house it seems to make sense because ultimately it will save us money. I've done my time with noisy cars and I like the fact that out of any electric, it's so peaceful, so that attracted me. And also, I wanted to keep it a Mercedes and they've produced the goods! We waved Mr Stroud off with a beautifully made hamper from
Darts Farm
to celebrate this first sale of the EQC for our market area.
Mercedes-Benz South West is very excited about this next step in our journey toward electrification. If you would like more information on the EQC please register your interest below.
[hubspot type=form portal=6656052 id=b8755088-1116-4578-8949-c646a998e095]