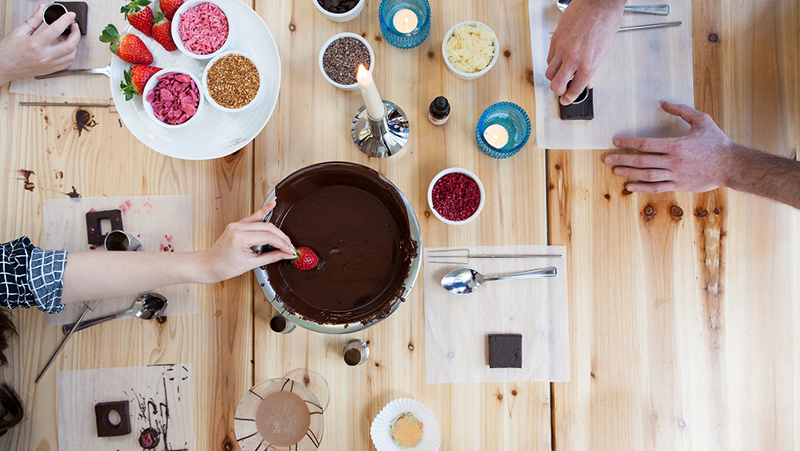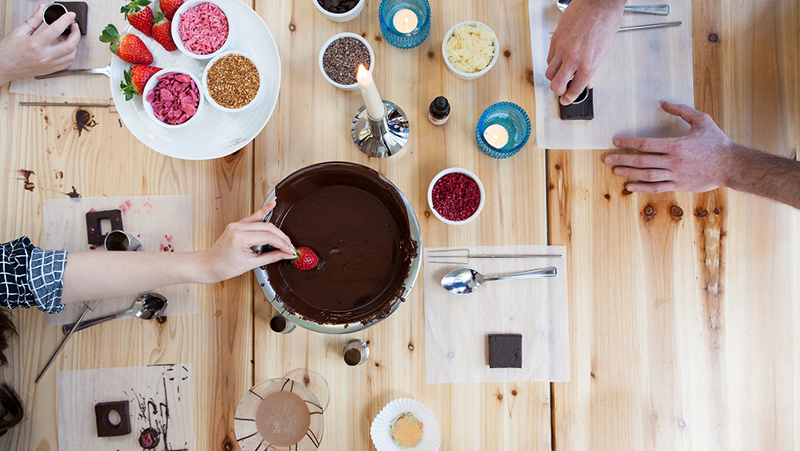 The best chocolate attractions to visit this Easter
Brits love their chocolate and at certain times of the year, such as Easter, many of us enjoy indulging in a delicious compendium of chocolatey treats. Those with children will especially understand the allure, and the good news is that there are a number of wonderful chocolate-themed attractions that can easily be visited at numerous locations around the country. So, this coming Easter, if you're looking to break in that new car from our
Mercedes-Benz dealership in Exeter
,
Truro
,
Taunton
or
Plymouth
, or if you're visiting family for the weekend, make sure to consider one of the below, chocolate attractions.
My Chocolate
If you're driving up (or down) to London this Easter, or happen to already be in the area, enjoying one of the workshops from
My Chocolate
would be a truly terrific option. With a delicious schedule of chocolate making classes available and some special Easter offerings, families will be in for quite the time. My Chocolate spoke to us about what makes them such an appealing prospect for chocoholics: "We are passionate about the art and craft of chocolate making and take great pride in combining playful creativity and charm with a heartfelt service ethos, to provide unforgettable experiences for our customers. Established 15 years ago as the first chocolate making events company in the UK, we continue to lead the way in delivering fun-packed
chocolate making workshops
, using the highest quality ingredients we can get our hands on." And regarding what visitors can look forward to over Easter, My Chocolate told us: "We're running several delicious workshops on Good Friday and Easter Monday on top of our regular weekend and weekday sessions! The Original Chocolate Making workshop is perfect for families with children 8+ while the Luxury Chocolate Making workshop combines delicious Chocolate Martini Making with creating fresh cream truffles and flavoured chocolate."
Cadbury Easter Egg Hunt
Cadbury has teamed up with
National Trust
sites across the country to host exciting (and delicious) Easter Egg hunts that are bound to delight younger members of the family on Easter weekend. Described as the ultimate day out, the
Cadbury Easter Egg Hunt 2018
has more than 250 hunts to choose from across the UK. And the best news is that everyone will be rewarded with a Cadbury chocolate treat at the end of the hunt. One such location to enjoy the fun is at
Woolacombe
, a beautiful golden beach with massive dunes, rock pools, great walks and surfing if you fancy it!
Baggy Point
is also getting in on the action, this stunning headland will prove to be a great location for finding hidden clues to complete the hunt!
Chocolate Ecstasy Tours
When in London, once you've parked up and are ready to explore the capital, why not kick things off with a chocolate tour extravaganza! London is home to so many mouth-watering chocolate themed gems and for the best guides around, you'll want to team up with
Chocolate Ecstasy Tours
. Revealing what makes their tours so special, Chocolate Ecstasy Tours told us: "People who come on the tours are amazed by how much there is to learn about chocolate, but they especially love the variety of the places we take them and the variety of the chocolates they get to taste. "The Mayfair Chocolate Tour starts with a relaxed session drinking hot chocolate and hearing about the process of how chocolate is made. Then we head off to explore, the guide sharing fun stories and facts about the area in between each boutique visit, and more tasting. We promise guests will feel completely full of chocolate by the end of the tour! "On all of our tours, we start sitting down, and on the Ice Cream Tour, the Sweet Treats Tour and the Evening Tour, we also finish sitting down too. They are very informal and because we have just eight guests as a maximum they are very friendly and personable too!"
BIG Sheep Easter EGGSTRAVAGANZA Festival
From Friday 30
th
March until Sunday 15
th
April, top south west attraction
The Big Sheep
is conducting a massive Easter Egg hunt on its premises. For those that don't know, The Big Sheep is a family attraction with rides, play areas, pony rides and more, and is certainly an attractive prospect come Easter time. The annual
Easter Eggstravaganza Festival
will see families looking throughout The Big Sheep for eggs (ultimate exchanged for a big Chocolate egg upon competition), with a special area designed for toddlers to hunt as well. The hunt has become a fixture of the West Country's Easter calendar and when combined with the chance to see some new born spring lambs, a truly wonderful day out is formed.
Rococo Chocolates
Rococo Chocolates
, operating in multiple locations including Chester, Belgravia, and Chelsea, was created by the hard work and inventiveness of Chantal Coady, and now, three decades after beginning her chocolate journey, has pioneered four shops to delight consumers of this treasured sugary treat. Rococo Chocolates kindly spoke to us about what visitors can expect to enjoy at their stores over Easter: "This Easter customers can purchase one of our many hand painted Easter egg designs along with other Easter treats including our praline filled real Hen's eggs and the limited edition Rococo and Teapigs matcha tea Easter egg. "We are also offering an Easter egg workshop for customers to create their own eggs, this is available to book on
Eventbrite
now. We also offer private workshops upon request. Just contact holly.mecke-taylor@rococochocolates.com to check availability." For hampers, bars, boxes, and more, Rocco Chocolates is an easy choice for one of the UK's best chocolate attractions.
Eggstreme Easter at Woodlands
Woodlands Family Theme Park
has a lot to look forward to at Easter, and this year is no different. This popular attraction in Dartmouth is a top day out no matter what time of year you visit, but during Easter time, while enjoying the rides, guests should also keep a look out for special chocolate tokens and pay a visit to the Easter bunny grotto. The grotto is the first of its kind in this part of the country, with children getting the chance to meet with the Easter bunny as well as receive a special chocolate treat. Woodlands are also hosting falconry displays and special craft workshops where guests can take part in making fun Easter souvenirs.
Oban Chocolate Company
If you're driving up to Scotland this Easter, a trip to the
Oban Chocolate Company
would be highly worth your while. Producing high quality chocolates, and winning plenty of awards on the way, their establishment is part shop, part café, and a truly cosy place to spend time this Easter. Regarding specifically what visitors can look forward to this Easter, Oban Chocolate Company told us: "Oban Chocolate Company is the perfect place to visit this Easter, being one of the few places in the world where you can sink into comfy sofas and indulge in fresh, handmade chocolates, gorgeous coffee and amazing waffles whilst watching the yachts and ferries sail across the bay to islands on the West coast of Scotland. "Our Easter eggs are individually decorated and handmade, indeed no two are exactly the same! Try our bite sized chocolate ganache bunnies flavoured with whisky, peanut butter, strawberry fondant or caramel; dinosaur eggs for the kids or our unique chocolate haggis eggs that make a fabulous gift! Delicious, fresh, handmade Scottish chocolates!"
Ilfracombe Chocolate Emporium
For those who fancy a chocolate adventure in the south west,
Ilfracombe Chocolate Emporium
will be the perfect venue. Dedicated to all things chocolate, at Ilfracombe Chocolate Emporium visitors can learn all about what goes into their award winning chocolate production process, as well as exploring their interesting chocolate museum. Not to mention having the opportunity to leave with a bevy of delicious chocolate treats – just try not to eat them all on the drive home! Ilfracombe Chocolate Emporium is a true chocolate lover's dream, and their experts are constantly experimenting with new flavours and fillings to bring their customers the very best offerings available. This chocolatey establishment even create personalised chocolate bars! Perfect for those seeking a unique gift for the chocolate addict in their life.
Slattery chocolate courses and workshops
Slattery
, a premium patissier & chocolatier since 1967, is located in Manchester and would be an ideal stop for chocolate lovers travelling in this part of the country. This award winning establishment is a family run business and excels in delighting customers with handmade luxury chocolates, delicious cake, and even ice cream – all of which is made right on the premises. Beyond being simply a sumptuous retail excursion, Slattery also offers a series of chocolate courses. This includes a half day chocolate cake workshop where attendants will learn how to turn a sponge cake into an attractive showpiece, and workshops where you can learn all there is to know about the world of chocolate. Slattery also have a fine selection of inventive Easter goodies to enjoy.
Melt Chocolates
Melt
in Notting Hill is more than just a chocolate shop – though this is more than enough reason to visit alone. This luxurious chocolatier are incredibly welcoming and the delicious chocolate aroma that greets those that enter will be an appealing prospect to families this Easter. Melt has a working kitchen in their store with their chefs taking pride in the art of making fresh chocolate, all of which can be observed by customers. Melt goes beyond just selling immaculate sugary treats, however, offering a number of courses for both kids and adults that are incredibly informative and a fun introduction to the art of chocolate tasting and making. The adult course runs for 1.5 hours and will be just the thing to placate that sweet tooth for both friends and family.
Image credit: Gr1st