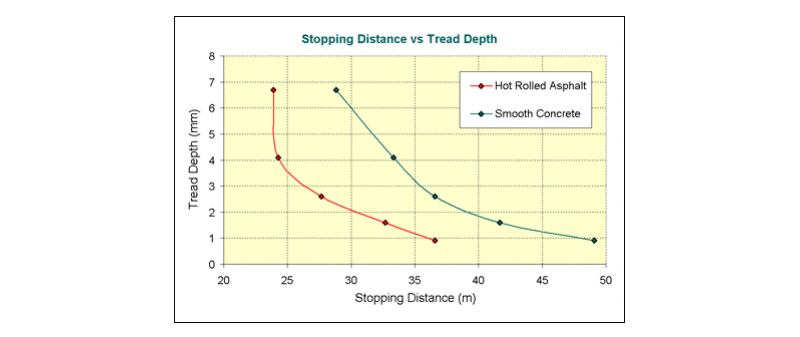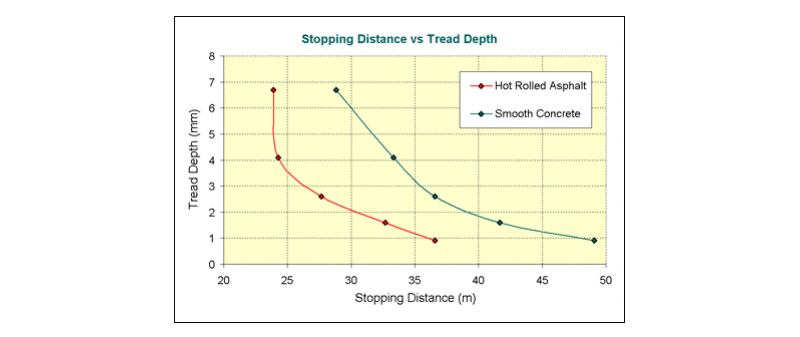 Tyre tread depth.
The minimum legal tread depth for cars is 1.6mm and this must be the case across the central three quarters of the tyre. The punishment for not meeting this requirement is a staggering £2,500 plus three penalty points on your licence, and that is per offending tyre. The size of the punishment is designed to reflect the risk worn tyres pose to road users because of their vastly increased stopping distance and the increased risk of aquaplaning. So, why do Mercedes-Benz and other leading brands advise drivers to change their tyres at 3mm instead of the 1.6mm as dictated by law? You wouldn't be alone in thinking it was a ploy by garages and tyre companies to push more of their product – after all, increasing the advised tread depth will reduce the life of the tyre and therefore mean they need replacing more regularly. However, research by manufacturers and road safety bodies alike has concluded that 3mm is a better standard to set for consumers because it is after this point that the stopping distance of a tyre deteriorates rapidly and to dangerous levels. We will look at some of that research now.
Why change your tyres at 3mm?
The Royal Society for the Prevention of Accidents
published a report based on a study by MIRA
that tested the affect of tread depth on stopping distance over two different surfaces. The experiment took place at their test track in Nuneaton on cars travelling at 50mph and was carried out on five different tread depths – 6.7mm, 4.1mm, 2.6mm, 1.6mm and 0.9mm.
To quote the paper: "From the graph of results, it can be seen that the stopping distances start to increase dramatically at tread depths of below 3mm. At the legal minimum tread depth of 1.6mm, the stopping distance is increased by 36.8% on the hot rolled asphalt and 44.6% on the smooth concrete. From the independent research, RoSPA recommends that tyres are changed once the tread reaches 3mm in depth."
'10 car lengths'
Not content with that alone, Auto Express
conducted their own research
. Auto Express also tested vehicles travelling at 50mph and found that it could take 44 metres more (10 car lengths) to complete an emergency stop with 1.6mm tread depth compared to 3mm. They also tested a car with 5mm tread - it took a massive 53m less to come to a stop than the car using tyres at the legal limit. It is not hard to see the difference that would make in an emergency situation.
Getting a grip on the matter.
It is well known that the performance of tyres differs greatly over their lifespan and therefore you could rightly argue that the legal limit could even be higher than 3mm. However, research has been consistent in proving stopping distance worsens so significantly on a tread depth that is below 3mm, that it is the widely agreed recommendation for changing your tyres.
You may be accustomed to the above signage on site at our local dealerships and, if you service your Mercedes-Benz with us, are likely to have been given advice on whether to change your tyres when their tread depth reaches near 3mm. It is by no means an obligation to do so and many motorist choose to wait and get the maximum lifetime out of their tyres. If saving funds would be your reason for doing this, it is worthwhile pointing out that a leading tyre manufacturer has estimated that the cost of changing your tyres at 3mm over 1.6mm would be just £20 a year for the average motorist. Regardless of that initial cost, we hope you can see the wider value in doing so.
Complete tyre health.
It is important to remember that it isn't just the tread depth of tyres that affects their safety on the road. You must also make sure that you check your tyres regularly for cracks or bulges in the tyre wall. By ensuring your tyres are properly inflated, adopting an anticipatory driving style and conducting regular wheel alignment work will also ensure the wear on your tyres is even while being kept to a minimum. The age of the tyre and how they are stored can negatively affect degradation levels and therefore is also something to consider.
If you would like advice on how to best look after your tyres, contact your local service team who will be happy to help.