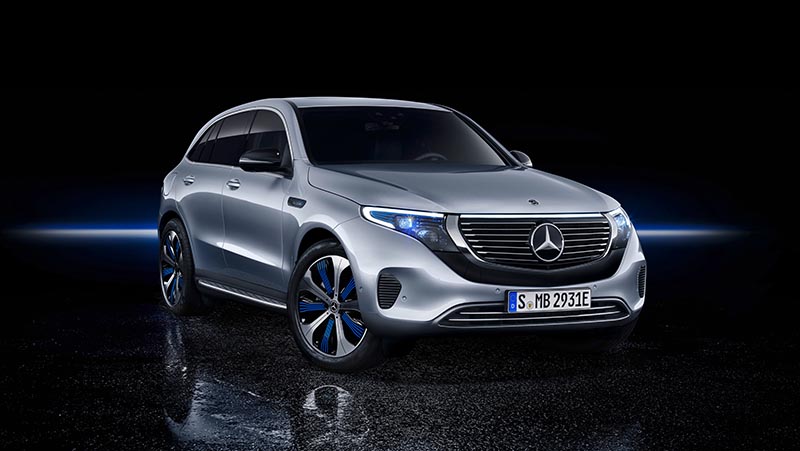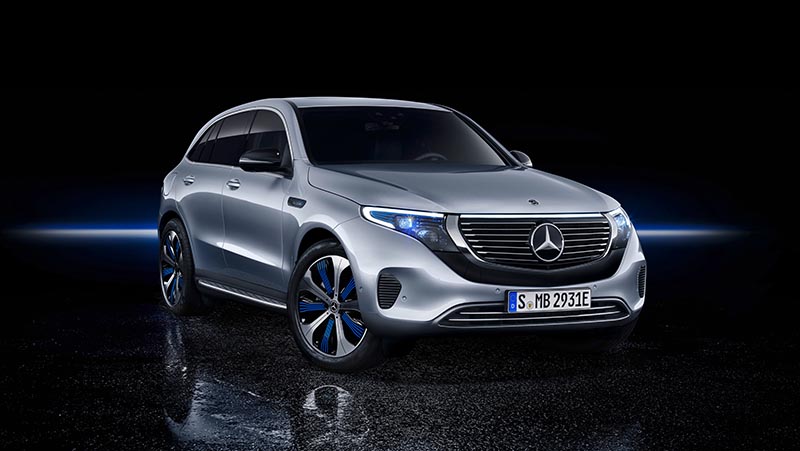 The New Mercedes-Benz EQC
Electric now has a Mercedes: The Mercedes-Benz EQC. Arriving in showrooms in 2019, the EQC is the first vehicle to be launched under the EQ brand and it will kickstart the arrival of a whole new family of all-electric Mercedes-Benz vehicles.
Instead of the combustion engines we are accustom to, an electric car is powered by an electric motor and a rechargeable battery. By its very nature, an electric car offers not only a reduced carbon footprint but also improved acceleration, minimised cabin noise and it cuts running costs. The downside? Although owners can charge their vehicle either at home or at charging stations, this takes longer than it does when filling up with petrol or diesel at the pump. The adjustment to and inconvenience of this has therefore created apprehension around electric motoring. However, as the charging infrastructure and the usability of the vehicles themselves continue to improve, and incentives supporting the move towards alternatively fuelled vehicles remain in place, more of us are becoming open to experiencing an electric vehicle.
The best or nothing.
Some may wonder why it has taken Mercedes-Benz so long to introduce an all-electric vehicle in a time of increased interest and demand. The answer is fuelled by our brand philosophy: we would accept the best or nothing. The result is that the Mercedes-Benz EQC combines maximum comfort, quality and operating range.
The future, now.
The EQC has been styled as a crossover SUV: with a body shape that sits part way between an SUV and an SUV Coupé. Blue highlights accentuate the EQC both inside and out, and staple the vehicle to its EQ origins. "The EQC embodies the Progressive Luxury design idiom of our new EQ product and technology brand. This creates an experience and a preview of the 'next big thing' to come tomorrow. With its seamless, clear design, the EQC is a pioneer for an avant-garde electric look," says Gorden Wagener, Chief Design Officer Daimler AG. It is the front profile of the EQC that really sets it apart. A distinctive black panel encases the head lamps and grille and an electrical fibre extends across the top of this panel and links the two daytime running lights. The interior is equally as luxurious. Exquisite materials and a driver-oriented instrument cluster are topped off by delicate rose-gold coloured detailing. The dynamic touch-screen display panels create a new world of personalisation with verbal command capabilities acting to increase control while reducing driver distraction. The EQC also boasts
Mercedes-Benz's new User Experience 
System MBUX
. In addition to natural voice recognition and multi-point touch control of the standard features, MBUX facilitates a range of functions within the EQC that are exclusive to the new range. This includes remaining range, charge status, energy flow and optimised navigation (which calculates the fastest route accounting for charging stops and charging time).

Uncompromising Performance.
Performance meets efficiency in the Mercedes-Benz EQC. Each axle hosts its own compact electric drivetrain, creating a combined output of 300 kW and maximum torque of 765 Nm. Each drivetrain is configured differently: the front focussing on best possible efficiency, the back tuned for driving dynamism. This facilitates the EQC's all-wheel-drive characteristics. Five different driving programs cater for all journeys and tastes: COMFORT, ECO, MAX RANGE,  SPORT and an individually configured setting. Paddles behind the steering wheel and the haptic accelerator pedal allow the driver to control energy conservation and recuperation, should they choose to do so. Although the range of the 80 kWh (NEDC) electric battery depends heavily on driving style, the EQC can obtain a maximum range of 450km. The instant accelerating power characteristic of an electric vehicle is utilised within the EQC, which can reach 62mph in only 5.1 seconds. This is compared to 8.3 seconds in the Mercedes-Benz GLC 220d 4MATIC and is only fractionally behind the high performance Mercedes-AMG GLC 43 4MATIC which achieves 0-62 mph in just 4.9 seconds.
Charging ahead.
A water-cooled onboard charger comes as standard with the EQC. Its capacity of 7.4 kW means it is suitable for home or public charging - however Mercedes-Benz do offer a wall box that charges at a rate that is 3x faster than through a domestic socket. The EQC accepts a maximum charging output of up to 110 kW and can therefore be charged from 10 - 80% in around forty minutes.

Ensuring your Safety.
Before any vehicle meets legal production standards it must undergo comprehensive safety testing. The EQC was no different: over two hundred prototypes and pre-production vehicles were tested over several million kilometres and across climates in four different continents (Europe, North America, Asia and Africa). As a result, the EQC exceeds legal testing requirements and, on top of the usual extensive crash tests, additional and highly rigorous tests centred on the battery and all elements carrying an electrical current.