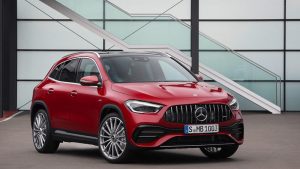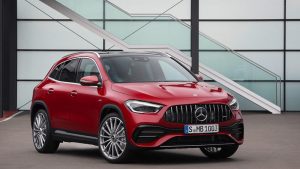 The new Mercedes-Benz GLA Facelift
The Mercedes-Benz GLA Facelift represents an exciting moment for our most popular compact SUV. Sporty, agile and practical, the
GLA
has remained a firm favourite for those who love the sleek styling of an SUV but prefer a smaller vehicle.
What's new in the GLA Facelift?
The new GLA stands above its predecessors, literally. The 2020 GLA Facelift is more than 10cms higher than the earlier models, making it extremely accessible for passengers including those with mobility issues or for manoeuvring small children into car seats! The new model offers more headroom at the front of the vehicle and considerably more legroom for the rear passengers, again resulting in a more comfortable journey. Under the bonnet the new GLA is expected to launch with the GLA 200, using a 1.3 litre four cylinder engine with 161 bhp. The GLA 200 (with a standard 7-speed automatic transmission) will do 0 – 62mph in 8.7 seconds whilst achieving a combined fuel consumption of 50.4 mpg. Other engine variants will be following later in the year. [embed]https://youtu.be/XZP96jid7_U[/embed] Following in the grand tradition of Mercedes-Benz SUVs, the off-road design features include an upright front aspect, as well as short overhangs at the rear and front of the vehicle. Opting for a 4MATIC model also includes our dynamic and supple Off-Road Engineering Package as standard.
Read our guide to 4MATIC.
Internally the quality and comfort of Mercedes-Benz shines through. The interior design is based on the A-Class hatchback and as well as the superior cabin environment, the GLA also benefits from the latest driving assistance systems and MBUX, our cutting edge infotainment system.
Read more about MBUX.
The new Mercedes-AMG GLA 35
The manufacturer has also announced a Mercedes-AMG variant, the GLA 35. The outstanding driving performance, 0 – 62mph in 5.1 seconds, comes from the agile high-torque 2.0-litre four-cylinder turbo engine, delivering 306hp. The power is variably distributed to all four wheels via the 8-speed dual-clutch transmission and the all-wheel drive.
The facelift for the GLA represents an exciting turning point for the model at the start of a brand new decade. The new GLA is now available for you to experience. Fill in the form below to book your unaccompanied test drive.
[hubspot type=form portal=6656052 id=8b7591af-8cc4-4382-8ce0-ced8af9f563b]