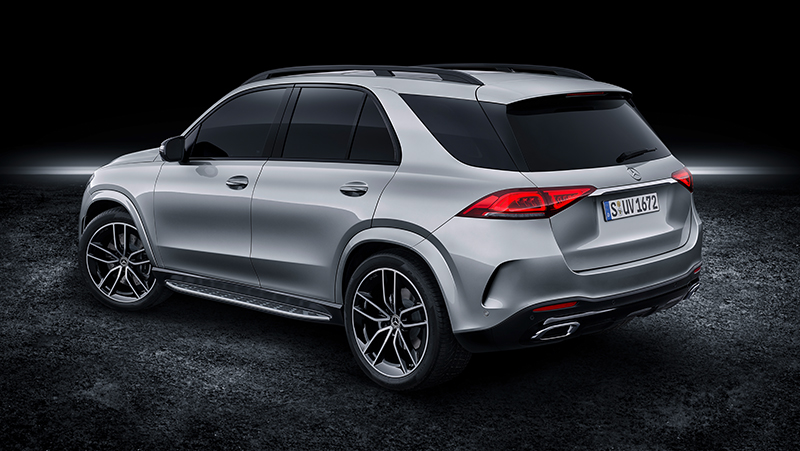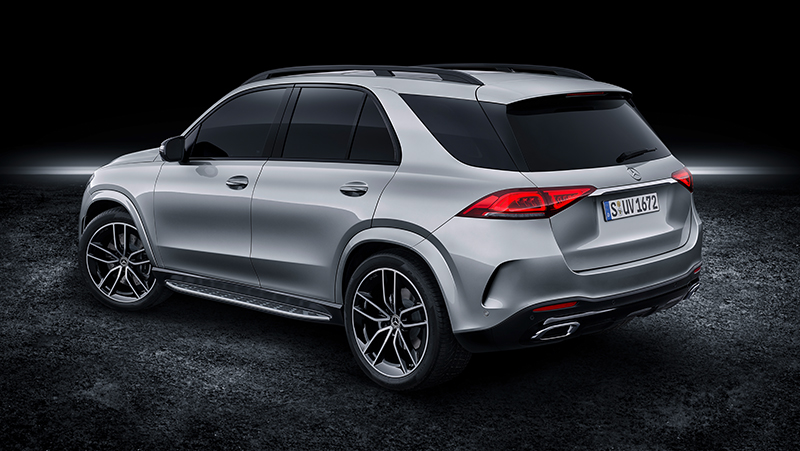 The new Mercedes-Benz GLE
Mercedes-Benz founded the premium SUV segment in 1997 with the now-iconic M-Class. In 2015 this model family evolved to become the GLE; a name that combined the model's off-road potential and its E-Class heritage. With over five million Mercedes-Benz SUVs sold worldwide in this time, the new GLE - which is due to arrive in showrooms in early April - is one of our most eagerly awaited
incoming models of 2019
. So, let's find out a bit more about it!
Model highlights:
- E-Active body control - Optional seven seats - Best aerodynamics in the SUV segment - MBUX technology - Powerful and efficient new engines
Bigger and better.
With a drag coefficient starting from just 0.29, the new Mercedes-Benz GLE sets the standard for aerodynamics within the SUV segment. This does not come at the expense of space, however, with headroom improved by 33mm and legroom increasing in the second row by 69mm to 1045mm. A more upright A-pillar also improves spaciousness on entry. An extra 125 litres at the rear has increased boot space to 825 litres and this reaches an impressive 2055 litres with the rear seats folded down. Loading larger items is also easier due to an 72mm increase for through-loading. If passenger numbers is your concern, the GLE has the capacity for seven seats thanks to an optional third row of full sized seats at the rear. The electronically adjustable second row allows for easy access and flexible leg room for all.
A new level of comfort.
Debuting in the GLE is new E-Active body control: the first fully active hydro-pneumatic active suspension to allow spring and dampening forces to be controlled at each wheel individually. There are four modes to choose from - curve, comfort, sport and offroad - and each reacts differently to ensure driving is effortless over all terrain. In comfort mode, for example, the car scans the road ahead and adjusts to handle any oncoming bumps or changes in surface in order to minimise disruption. Also new is the optional Energising Coach feature. This utilises functions such as climate control, massage seats and ambient lighting to complement your mood. You can select from predetermined themes or the system can pair with certain fitness devices in order to react automatically to data including your sleep quality, stress level and current heart rate. The GLE is the first SUV to offer Mercedes-Benz's revolutionary
MBUX
 system. This grants unrivalled personalisation through artificial intelligence that adapts to you by learning your behaviour and preferences. Control of the many multimedia features at your fingertips is granted via natural voice and movement recognition, the touch pad on the centre console and also the largest ever touch-screen display panel at 12.3 inches.
A modern design idiom.
The new GLE exudes luxury from inside, out. Most notable within the cockpit are the two stunning 12.3 inch flat screen displays, the optional ambient lighting and the two grab handles that accentuate the centre console. From the outside, the new GLE continues the distinct design idiom of modern Mercedes-Benz as pioneered by the new
A-Class
. Nevertheless, muscular lines and proportions give the new GLE a uniquely powerful appearance.
Performance and Efficiency.
The engine lineup available at launch for the GLE ranges from a 4-cylinder diesel to a V8 turbocharged petrol. Both four and six cylinder diesel engines are among the most efficient in their respective classes and meet the strictest emissions standards; complying with Euro 6d regulations that do not come into effect until 2020. The GLE's six cylinder and V8 petrol engines have an integrated Eco Boost electric motor and utilise hybrid technology as a result. All engines come with 9G Tronic automatic transmission and have
4MATIC all-wheel-drive
as standard.
The new Mercedes-Benz GLE is available to order now but will be available to view in showrooms from early April. If you would like to get priority access to test drive the new model sign up for advance updates.