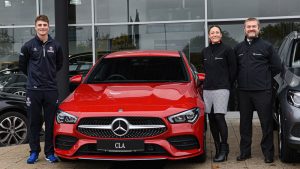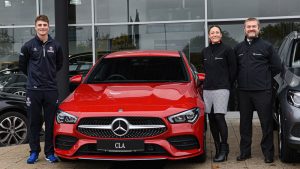 2019 Highlights from Mercedes-Benz South West
Another year is drawing to a close, and we're taking a look back at our 2019 highlights. From events in the sunshine, to breaking down stereotypes we've share some fantastic moments with our customers this year.
Here's a round-up of our 2019 highlights of the year…
Love Stories campaign
We were feeling the love this February as we gathered stories from our customers about their love affair with their Mercedes-Benz. Hearing about the love people have for their cars, and the customer service they get from us.
Read our favourite Love Stories entries.
The quiet of the Cornish countryside was over taken by the roar of AMG engines at our annual AMG day this year. We rounded up the best of high performance vehicle to offer a selection of customers an exclusive driving experience. Accompanied by a professional Mercedes-Benz driving expert, customers were given a chance to take our latest models out for a spin and to learn more about how to get the most from their vehicles. [embed]https://www.youtube.com/watch?v=kUCKsxVJquE[/embed]
International Women's Day
Mercedes-Benz is known for pushing boundaries, and that covers all area of our Business. This year we were thrilled to welcome our first female technician to the Mercedes-Benz family, as well as celebrating the fantastic women in our business to celebrate International Women's Day in March. Harley Mortlock, an apprentice technician has found follow up fame featuring in the City College Plymouth poster campaign to promote their Apprenticeship scheme. We are extremely proud to offer Apprentice roles across our business. For more information, visit our
career pages
.
Delivering Smiles to Happy Customers
2019 also delivered new cars to many happy customers. From Truro to Taunton, we're thrilled to have put smiles on customers faces across the South West. Here's one of our favourites, a handover of the inimitable Mercedes-AMG G63 [embed]https://youtu.be/akSsVZj2jNo[/embed]
EQC Visit
Excitement has been building into palpable energy for the release of our new all-electric
EQC
. In September, we were thrilled to host a launch event at
Mercedes-Benz of Exeter
. Customers were given the opportunity to experience the model first hand, and to have a product walk-around from our EQC specialists.
Working with our Ambassadors
Mercedes-Benz South West is proud to partner with some of the region's top sporting talent as our brand Ambassadors. Exeter Chief's player Jack Yendle worked with us for another year, delivering Rugby skills masterclasses to local primary schools and also making an appearance at our AMG Day and Open Air Cinema events. We have also recently welcomed Somerset Cricket Captain Tom Abell to the team. Tom has recently come on board and is excited to help support our work in the Taunton Community in 2020.
Mercedes-Benz Golf Trophy National Finals
The sporting prowess also came from our customers this year. Each year the Mercedes- Benz golf trophy tees off with dealership golf trophies which then feed into a regional and national final. This year three Mercedes-Benz South West customers made it to the national final in St Andrews, and two have made it through to the International Trophy Championship in Germany in 2020. Good luck!
Open Air Cinema
Another in our year of firsts, this September we hosted our first ever Open-Air Cinema at Mercedes-Benz of Exeter. We screen family favourite, The Greatest Showman, under the stars to raise money for the stellar work done by Guide Dogs South West.
This fantastic event attracted families from across the county, and raised £300 for Guide Dogs South West. Safe to say, it has been a year of fantastic events for Mercedes-Benz South West, and 2020 looks set to follow the same trend! Thank you to all of our customers for being part of our 2019 highlights, we look forward to seeing you in the New Year.
Sign up to our newsletter to be the first to hear about exclusive events.
[gravityform id="2" title="true" description="true"]