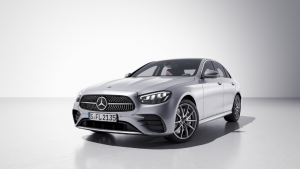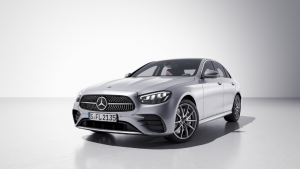 The New E-Class
The
E-Class
is where luxury and style combine for a truly iconic vehicle.  An undeniable status symbol, the new E-Class provides a superior driving experience along with impeccable styling, and at the end of 2020 received a facelift across all models to bring this distinctive car bang up to date at the top of its class. [embed]https://www.youtube.com/watch?v=qhFX498FTp0[/embed] Each of the models in the new E-Class range offers an enhanced level of connectivity. A key upgrade to the E-Class is the inclusion of our state of the art
MBUX infotainment system
, including gesture & voice control as well as a suite of Interior Assistant Functions for a superior driving environment. Our Comfort and
Driving Assistance
packages are also guaranteed to improve your driving experience. Supporting and stress-relieving functions relating to ride comfort and safety such as Active Blind Spot Assist with exit warning function, Driving Assistance Plus Package for the first time with Active Stop-and-Go Assist. Comfort Packages such as the ENERGIZING Package will be your perfect companion for longer journeys. If you're looking for a hybrid then EQ Boost is available in a number of engines in the new E-Class Saloon and Estate model range.
The new E-Class Saloon
The updates to the exterior of this premium saloon include enhanced sportiness on all equipment lines including enhancements to the front lights and bumper, along with a unique and distinguishing radiator grille design for each equipment line. Inside the vehicle Mercedes-Benz is now including fully digital display as standard, along with a new generation steering wheel design as well as additional trim and upholstery options for you to create an E-Class that's as unique as you.
The new E-Class Estate
Spacious, dynamic and powerful, the new E-Class Estate is a premium and adaptable vehicle, ready to take on the challenges of a busy life. The flexible space concept gives a spacious feel throughout the vehicle, with the standard 640 litre boot capacity extending to 1820 litres when folding down the rear seats. The EASY-PACK tailgate makes loading and unloading easy by allowing contactless opening of the boot.
Comfort for all passengers is paramount, and with additional USB ports both in the front and rear to keep your family connected. Modern design meets timeless character in the exterior design of the new E-Class Estate. The refined exterior features powerfully contoured shapes across equipment lines with an off-road emphasis on the new E-Class All Terrain, which gives the additional driving excellence of Mercedes-Benz 4MATIC all-wheel drive to our exceptional Estate.
The new E-Class Cabriolet
Freedom meets beauty in this updated version of our luxurious four-seater cabriolet. Our unique large Cabriolet means that you can enjoy the sumptuous design and exceptional comfort, without having to compromise on practicality.
The exterior design also features the enhanced sportiness included across the range, including restyled headlamps and new variations of the radiator grille for a distinguished appearance. The full opulence of this vehicle is then carried throughout the interior with all-digital display, a new generation multifunction steering wheel and new trim & upholstery variations. Top-down driving technology creates additional comfort in all environments. AIRSCARF provides neck-level heating which as well as providing a more comfortable journey, will also help passengers to relax and enjoy the ride. The automatic control adapts depending to the speed of the vehicle and temperature can be controlled individually. The unique Mercedes-Benz AIRCAP draft-stop system directs the airstream above the vehicle interior to reduce air turbulence even at higher speeds.
The new E-Class Coupe
Four occupants, two doors, one love; the attractive and stylish E-Class Coupe is hard not to fall head over heels for. Athletically elegant design combines with a powerful and efficient engine, along with first-class craftsmanship in the interior. A truly superior vehicle designed for discerning and sophisticated driver.
Along with the outstanding aesthetic, comfort has also been increased with additional long-distance comfort in the rear seats for equal enjoyment for all four passengers. The sporty and powerful exterior design which defines this 2020 facelift continues in the Coupe to add an extra level of elegance, supported by the luxurious interior.
The new E-Class range is now available at Mercedes-Benz South West. Our friendly and knowledgeable sales teams are available remotely to answer any questions you may have via video call or telephone.
[hubspot type=form portal=6656052 id=8b7591af-8cc4-4382-8ce0-ced8af9f563b]