Welcome To Our New Website!
Welcome to the brand new Mercedes-Benz South West website, built to provide you with that trusted Mercedes-Benz experience you receive in our showrooms, now when shopping with us online.
You can expect to find a whole host of new features and functionality integrated into our site to not only make this possible, but to ensure your car buying journey is as easy, convenient and transparent as possible.
So, what's so exciting about our new website?
Buy or finance a Mercedes-Benz online
From browsing our current stock all the way through to choosing your delivery method, you can now buy or finance a new and Approved Used Mercedes-Benz entirely online.
A whole host of new features and functionality has been integrated into our site to not only make this possible, but to make sure your car buying journey is as simple, easy and transparent as possible.
You don't have to do this on your own either. If you have any questions or need some help at any point along the way, our team are here to support you between hours of 8am – 10pm on weekdays.
If you would like to connect with a Mercedes-Benz specialist instantly, you can Live Video Call a member of our Sales Team, or chat to us using our Live Chat. Of course, feel free to call us via telephone or email us if you would prefer.
Reserve a vehicle
Found the perfect Mercedes-Benz? You can now secure the vehicle by reserving it. Reserving a vehicle means other users won't be able to reserve or purchase the vehicle while you have it reserved.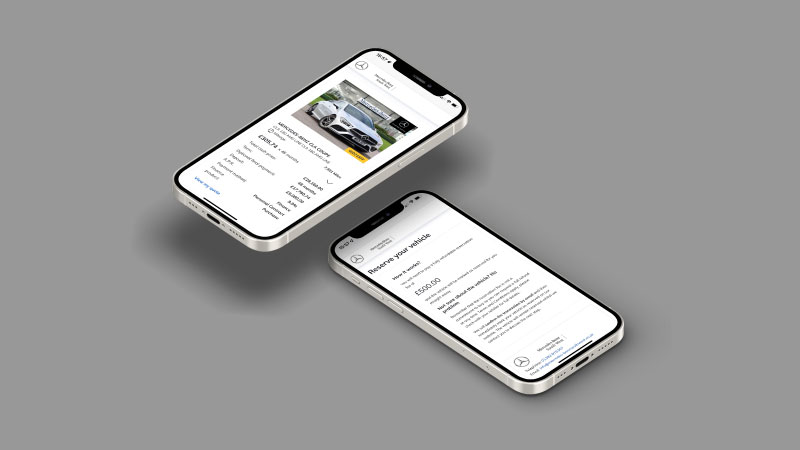 Apply for finance
Create a plan that best suits you. You can edit term length, deposit contribution and annual mileage to suit your driving demands.
Where applicable, you can also choose your chosen and trusted Mercedes-Benz finance broker which includes Mercedes-Benz Financial Services (MBFS), Santander, and Black Horse.
One of our financing top tips would be to ensure your credit rating is as healthy as possible before applying, as this can have an impact on your plan and the amount you pay.
Get a part exchange quote
Considering part exchanging? Part exchanging your current vehicle gets you one step closer to your new Mercedes-Benz financially. With our new part exchange tool, all you have to do is tap in a few details about your current vehicle so we can value it.
After you've done that, you will receive our estimated valuation* straight away. It's a great way to get an idea of how much your vehicle is worth.
Read more about part exchange.
Find more detail than ever before
On our new website you'll find up to 140 pieces of data broken down into exterior, interior, safety features, performance stats, running costs, history checklist and more.
The layout means you can flick through the information quickly and efficiently while learning valuable pieces of information about that specific vehicle.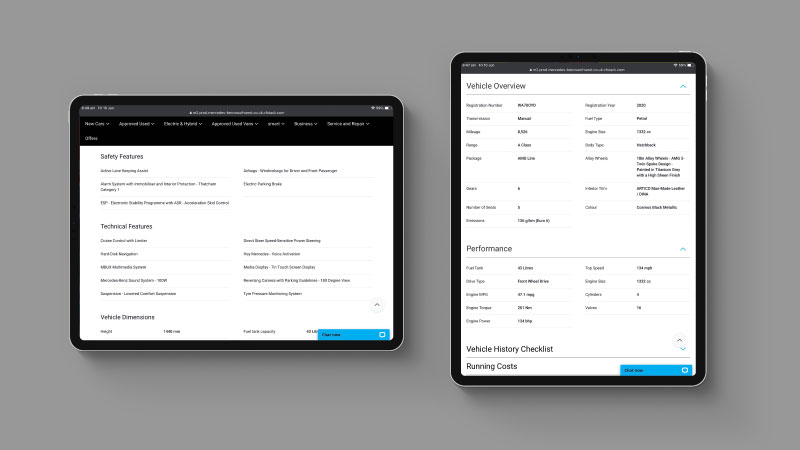 True Transparency
We understand that buying a car can be a huge commitment, which is why we take transparency very seriously. We include images of any imperfections the vehicle may have such as dents or scratches.
This is to make you fully aware of what to expect when you receive your vehicle and eliminates the risk of any unwanted surprises when you receive your Mercedes-Benz.
For added peace-of-mind, did you know we offer a 14 day money back guarantee? When buying a vehicle from Mercedes-Benz South West you have up to 14 days to ensure you have purchased the right one for you.
Read more about our 14 day money back guarantee.
My Account
An area dedicated to you and all of your important documents related to your vehicle. We can add important files you need to be aware of into your account meaning that all your essentials are all in one place.
Just like anywhere else on the site, if you can't find what you're looking for, connect with us using Live Video Call or ask us on Live Chat.
If you need more information or guidance on how to buy online, visit our How To Buy Online page. If you have any other questions about our new website, contact us and a member of the Mercedes-Benz South West team will be in touch.